A shot history of the club

The idea of forming a cricket club came from Leslie Joseph, a after watching the exciting first test between England and the West Indies in 1975. He discussed his vision to Frisco Smith, Winston Service, and the Collins brothers, (Neville and Randolph), and they set about to scout for players in order to build a team. The other early members were Sajid Shah, Vaughan Munroe, Horace Manning, Joe Chauhan, DS Royed, T Venney, N.James (Huggins), R Ricky and George Goddard.

Most of the members worked for General Motors at the time, and the name for the club was taken from the current car, the Chevette.
Leslie, was nominated as club Secretary, Frisco, Function Organiser, Winston Service, Chairman and Neville Collins captain.

Chevette's first match was against Bedford West Indians on the 15th June 1975. It wasn't a great start on the field. They lost after being bowled out for 69. Leslie topped scored with 18, extras (9) was the next highest score. The team which played that day were:
H. Manning, L. Joseph, S. Shah, E. Smith, J. Chauhan, N. Collins, W. Service, Vijay, D. Avery, Venny and Willy.

Many Chevette batsmen scored ducks in the early matches. Frisco had three consecutive ducks. In their first seven games they only manage to score over a hundred twice, 138 and 103.
The bowlers took some hammering also, allowing the opposition to score 150 plus when ever they batted first, but things were about to change.

The club's first fifty was scored by Vaughan Munroe (55) Horace Manning took 5-79 in the same match. He was the outstanding player during the early stages of the season. He opened the bowling and made good contributions with the bat.

On The Up

The match against Watford in August 1975, saw the introduction of Chevette's newest player, Murphy. Early indications suggest that this was a special player and he didn't disappoint. His bowling figures against Watford was:10-7-5-7. He also scored 17 not out to guide Chevette to their first ever win.

Against Eynesbury he had figures of 13-8-2-26 and topped scored with 33. But that effort wasn't enough to earn a victory. In the game at Linslade he ran riot to ensure victory with figures of 14-2-9-22.

When they met Potten End, he was again outstanding. Potten End was bowled out for 58 but Chevette collapsed to 38 all out. Murphy's figures were, 11-3-6-11. He followed that up with 4 for 39 in the win against Chalgrave. Randolph Collins topped scored with fifty one in that game.

Chevette's batting power came to the fore in the match against Cam Gears. They amassed a total of 247 even though there were four ducks in the innings. Munroe, 51, Murphy, 48, Manning, 42, and Royed, 33.
Murphy was once again the star in the second match against Potten End at Stopsley. He had figures of 10-5-5-15 and scored 30 out of a total of 168. His final two performances on record though not outstanding was still good, 11-0-3-56 (lost) and 11-3-2-39 (won)

Errol Crawford introduced himself to the club with a good 48 on his debut in the first match of the 1976 season against Drayton, which Chevette won.
He excelled once more with 62 and 73 in his next two games.(w) Steve Harewood also made his debut in 1976. Against Gaddesden at Crawley Green, he took 3 for 9 from eighteen overs. Mitchell St.Ville was another new member in 1976. He made 47 not out in his first game against Leighton Buzzard.

Chevette was now starting to be a force, making big scores and winning games. The first four matches in 1976 were victories, with scores of 104, 173, 203 and 173. With the arrival of new players, Errol, Mick Prescott, Mitchell St.Ville and Steve Harewood, Chevette joined the Luton and District Mid Week League in 1977. They missed promotion by three points under the leadership of Errol Crawford.

1978 saw the influx of more players, Julian and Ossie Jackson and Terry Gooding, from Luton United.
Vaughan Munroe, succeeded Errol, as captain and guided Chevette to promotion after claiming maximum points in Division three. Chevette was too strong for the lower divisions and they were promoted to the first division instead of division two.

There were some outstanding performances that year. Michael Prescott took a league hat-trick in his 5 for 7 spell. Chevette, set a record breaking score of 194-5 in Mid Week League match. Julian Jackson 55 and Terry Gooding 74. And to cap it all they bowled out the mighty Luton United for 26 runs in a cup match.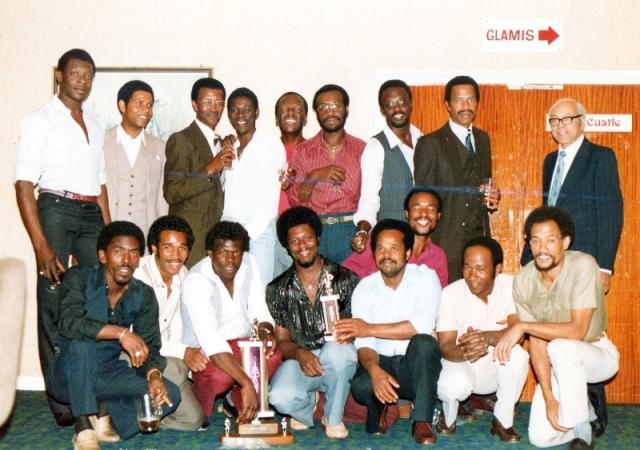 Below is an arrangement the photos and newspaper cuttings which I have collected over the years. I have arranged them the best I could. I hope they bring back some good memories.

1977
Joined the Luton Mid Week League
1978
Terry Gooding joined Chevette
Division 3 Champions
Pre Star Cup Quarter final
1979
Division 1 Champions
Pre Star Cup Semi Final
Vs Luton Indians
Trevor Prescott joined Chevette
1980
Premier Division Champions
1983
Team only managed to score over 200 twice.
(202 Vs Ambassador and 211 Vs Marconi)
Trevor Prescott, 92 Vs Coldecote
Errol Crawford, 90 Vs Mentmore Park in 102
partnership with Godfrey Davis
Ken Davis, 70 Vs Sundon Park in Cup Match
Andrew Antrobus, 66 Vs Flitwick in Cup Match
Steve Harewood, match winning 50 not out
Vs Aylesbury W.I (including 9 fours)
Tim Broome, figures of 13-9-6-9 Vs BrooklandsTim
Broome, figures of 12-3-4-6 Vs L.International
1984
Godfrey Davis promoted to opener. Leslie Joseph also opened in some League games
Godfrey, 117 Vs Kashmir Cavaliers. (16 fours and 2 sixes)
1985
Great season for Andrew Antrobus
Andrew, 113 Vs AKCC. Put on 141 run partnership with Terry for the
second wicket
Harvey Ashton, figures of 4-1-3-21 Vs Brooklands
Tim, figures of 11-2-5-21 Vs Alyesbury W.I
Pre-Star Cup winners Vs Luton Indians
Julian Jackson, 143 Vs Brooklands
Bowled out Marconi for 24 N.James 6-4-6-5
Relegated to Division 1
1987
Division 1 champions


Oliver Shield Final (lost)


Pre-Star Cup Final (lost)


Record league score against Ashcroft - 186-4
Chevette also dominated the Unity Trophy between 1982 and 1987.